Pop quiz! Which one of these do home sellers find most stressful?
A. Not knowing if they can sell within their desired time frame
B. Getting a house ready to sell
C. Not knowing if buyers are seriously interested
Most people guess "B" — after all, if you don't know how to get your house ready to sell, it can create all types of anxiety and stress.
But according to a recent Zillow consumer survey, the correct answer is A.
And this makes complete sense.
Many sellers don't believe they can sell their home fast (and for top dollar) because they don't think potential buyers will find their home appealing.
In some cases, their house sits for an extended period of time and they end up accepting an offer below market value.
And almost every time this happens, there are things they could have done before putting their home on the market that would have prevented this.
That's what we're going to discuss.
But before we do…
You need to start with this.
Get your house ready to sell with a different mindset
Do you want to know one of the secrets to knowing how to get your house ready to sell quickly?
Your mindset.
Along with a plan, you need to have the right mindset.
And that mindset is to think of selling your home as a business transaction.
Many sellers don't.
When it comes time to make decisions on certain things, they base these decisions on their preference.
Don't do it.
Homebuyers (and humans in general) buy off of emotion.
Your specific taste in something might not appeal to the largest pool of potential buyers.
The more potential buyers you can appeal to, the better chance you have of getting the best offer in the shortest amount of time.
The key to getting your home ready to sell is to optimize its appearance to attract the most buyers.
But to do so while spending the least amount of time and money.
Keeping the emotional attachment out of this process helps you do this.
All right, now that you have the right mindset, learn exactly how to get your house ready to sell!
1. Maximize your space
Decluttering your house is the first thing you'll want to do as you get your house ready.
This can go a long way and be one of your biggest payoffs.
Why?
Space.
Buyers love to see space and storage.
The more, the better.
But it can be overwhelming if you don't know where to start.
So, here's my advice…
Get trash bags and moving boxes. If you need smaller storage containers, Home Depot has quite a few options.
Then go room by room.
Decide what's going with you and what you can get rid of (or donated).
Stay focused by concentrating on one room/area at a time.
After you've completed each room, you can start with the closets.
Label the boxes, tape them up, and store them.
If you have a garage, it's perfectly okay to stack the boxes in there until you move.
Potential buyers will want to get a peek, but having boxes there won't have a negative impact.
If you have a basement, I'd recommend not storing boxes there. A basement can be a selling feature, and the last thing you want to do is obstruct a buyer's view.
If you run out of room, or if you have bigger items that need to be stored, then you'll need a place to store everything.
If you're staying local, you can rent a storage unit from a place like Public Storage.
Another company that will store your stuff, but also gives you the option for a pickup, is Clutter.
If you're moving far away, you can also look into a storage container.
Anything that's not going with you can be set to the side.
When you're ready, you can contact a junk removal company and have them come and pick everything up.
The key to decluttering is to put yourself in the shoes of a potential buyer.
Pretend this isn't your house.
What looks clustered? What is taking up too much space? Do you have personal items and/or photos? Anything outdated that probably won't appeal to a large demographic?
These are the items you should plan on removing when getting ready to sell your property.
2. Get a home inspection
If you're wondering if you should get a home inspection before selling, the answer is a definitive yes.
Do you need to get a home inspection? No.
Inspections aren't required when selling your home but can be one of the best investments when getting a house ready to sell.
It gives potential buyers information about what's "under the hood."
Your property can look great online and in person, but even if it looks to be in great condition, buyers will want to know if everything is working as it should and if anything needs to be fixed.
A pre-sale home inspection will alleviate these concerns.
You want to know how to prepare for a home inspection as a seller?
You don't.
Why?
Because you'll most likely waste your time and money.
Many sellers will spend a lot of time making repairs before getting an inspection. And a lot of them spend way more time (and money) than they need to.
They'll go through the home and repair every little thing. You don't need to do this.
The one thing you will want to do is to make sure the inspector has access to everything they'll need (water heater, crawl space, etc).
But why spend time on things that might not be called out in the home inspection?
Now, if something is easily visible and needs to be fixed, then sure, go ahead and fix it.
But get the inspection first and make repairs after. This way, you can save time getting ready and knock everything out at once.
You might be thinking, "But won't the inspection report show a list of items that need to be fixed, which will turn buyers away?"
Yes, the report might come back with a list of items. In fact, it's almost guaranteed that you will have numerous items called out, even if you make repairs beforehand.
Inspectors are going to pick your home apart and call out every tiny detail they see.
Here's an example of an inspector calling out an uneven walkway as a trip hazard:

They do this for liability reasons. And this is perfectly fine as potential buyers and their realtors should be well aware of this.
But if you have a great real estate agent, this won't have a negative impact when buyers view the report.
Go over the inspection report with your agent
Your realtor should do these two things:
Provide you with recommendations for things that should be fixed
Provide potential buyers with a list of items that have been repaired
An experienced real estate agent will know which items are worth fixing and which ones aren't.
Here's a quick tip:
When you interview real estate agents, make sure you ask them what they think should be fixed or updated. You should be able to tell pretty quickly if that agent carries the expertise you'll need to help optimize the appearance of your home.
When the inspection report comes back, discuss it with your realtor and ask them to give you a checklist of items that are worth taking care of.
Then, when these items are completed, they can list these items in a Word doc and include the completed items on your checklist in the disclosure package (usually a PDF file for interested buyers that includes the seller's disclosures, inspections, reports, etc.).
This way, when potential buyers view the home inspection, they'll see that you took care of the most important items.
And if you have receipts, you'll want to make sure you include these as it shows prospective buyers the time and money you've invested in preparing to sell your home.
The buyer can still choose to get their own inspection, but when you do it before selling, it does three things:
Helps the buyer feel more confident when submitting an offer
Reduces the chances of the buyer asking you to make repairs
Decreases the chances of the buyer backing out
A pre-sale home inspection is optional but is one of the best home selling tips.
3. Make repairs and upgrades that pay off
The most important repairs to make as you prepare to put your house on the market are ones that pay off.
That seems like an obvious statement, but it needs to be said because too many sellers spend time repairing things that don't matter.
Of course, making any type of repair doesn't hurt, but there's no need to spend time, money, and stress on repairs that won't benefit you.
The important repairs you'll want to make before selling your home can be big-ticket items or smaller ones.
But how do you know which ones are worth making?
First, refer to your home inspection and the list of recommendations that your realtor should be giving you.
Any big-ticket items will most likely be on here.
Some of the bigger things to fix when getting ready to sell include the following:
Air conditioning
Furnace
Water heater
Foundation issues
Replace subfloor (usually in the bathroom caused by leaks)
Electrical problems
Roof leaks
A lot of the smaller items will be on the inspection too, but some might not be mentioned.
You can find some of these yourself.
Here's how:
Walk through your home from the perspective of a potential buyer.
This is not easy to do, but it can really help as you start to get your house ready to sell.
Grab a pen and paper and step out your front door. Walk back in and pretend you're seeing your house for the first time.
Go room by room and walk slowly. Does anything stick out visually or is anything not functioning as it should?
If so, these are the things that you're going to want to fix as they'll get you the biggest bang for your buck.
Spend a good 20-30 minutes and make a list.
Marks on your floor? Stains on your carpet?
Check all of your door knobs. Do they work properly?
Open and close your windows and doors. Do they function as they should?
Can your showers and bathtubs use a re-caulking?
Check your AC filters.
Are they dirty? Replace them.
Once you have your list completed, it's time to determine if anything needs to be replaced.
What should I replace before selling?
Anything you replace is going to help, but not everything will make you money.
The key to knowing what to replace before selling is to think visually.
Remember, buying a home is an emotional decision, so the items that will pay off are usually the ones that a potential buyer will get excited about when viewing your home.
Make the right replacements when getting ready and buyers will pay you more money than what it costs you.
Upgrades to the kitchen get the most excitement, but they are also usually the most expensive.
Could your kitchen use a little updating?
If so, start here.
If your cabinets have outdated knobs or handles (or none), replace them.
This can make a huge difference.
And they're cheap.
You can get a 10-pack at Home Depot for $20.
Keep it simple. No need to get too fancy.
Satin nickel works well with many cabinets.
Should you replace your appliances before selling your house?
If you're asking this question, the answer is yes.
Upgrade to stainless steel.
If some of your appliances are stainless steel and others aren't, replace the ones that aren't.
Upgrading to stainless steel appliances is one of the best tips to get your home ready.
They make your kitchen pop.
Not just in-person, but in your photos too.
But, as with other things you might replace, don't spend a fortune. Unless you're in an area of higher-end homes, you don't need higher-end appliances.
The most important thing is that they're stainless steel. That's it.
It makes sense to replace your countertops when getting ready if your kitchen is in good condition but your countertops aren't.
For example, are your cabinets in decent shape but you have something like Corian countertops?
Think about replacing them with granite or quartz.
Quartz is more desirable right now.
And if your kitchen is in decent shape and you have older tile countertops like these, then you should definitely think about replacing them: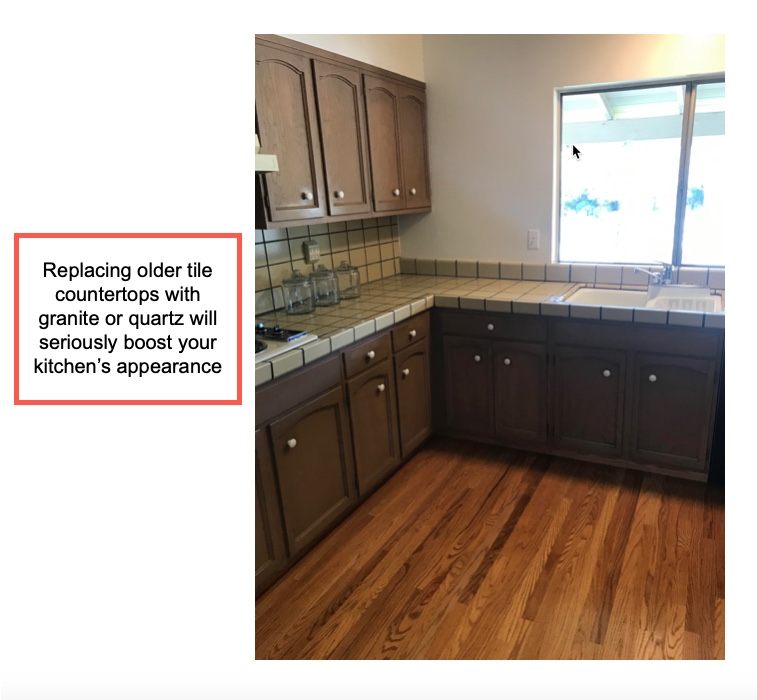 The older tile countertops are an eyesore.
Updating your appliances and countertops can be a great investment when getting a house ready for sale.
Just like the kitchen, remodeling a bathroom can be expensive.
In many instances, replacing things in the bathroom will make you more money compared to a complete remodel.
Vanities can also be a great investment when prepping.
Is yours outdated?
Then I would highly consider replacing it.
Look at your shower fixtures too.
Are they older? Replace them.
Bathrooms don't have as much of an impact as a kitchen does, but they're next in line.
Flooring is another biggie.
When you upgrade your flooring, the resale value will usually be higher than the cost.
A lot of this will depend on the current condition of your home.
For example, replacing carpet will almost always pay off if your home is in "average to good" condition.
And when I say replace, I'm talking about replacing the carpet with a new type of flooring.
Carpet was sought-after 15-20 years ago, but nowadays, the majority of buyers prefer floorings such as laminate, vinyl plank, or hardwood.
If you've updated your kitchen and bathrooms within the last ~15-20 years, then replacing your carpet with new flooring probably makes sense.
If your kitchen and bathrooms are a bit outdated, then I would probably leave the carpeting.
When you replace a sought-after feature such as flooring, kitchen, or bathrooms, if the others haven't been updated in a while, the positive impact is minimal.
The only exception might be the kitchen. But it depends on the home.
If replacing your carpet with new flooring doesn't make sense for you, you have two other options:
Replace your carpet with new carpet
Keep your current carpet, but get it cleaned
As long as your carpet hasn't been torn apart, always shoot for option B.
What about my roof ?
Unlike your kitchen, bathrooms, and flooring, replacing your roof will most likely cost you more than the added resale value.
Buyers don't tend to pay attention to the roof when viewing a home.
So, in a lot of cases, adding a new roof when getting ready to put your home on the market will bring a negative return on your investment.
Remember, it's all about visual appeal.
The upgrades that make you money when selling your home are the ones that enhance a potential buyer's emotional state when they view your property — and a roof isn't one of them.
But replacing a roof before selling can make sense if it's in really bad shape or if you have a wood shake roof in an area where this isn't desirable (most areas).
A roof inspector is going to state the condition as something such as "great," "good," "fair," or "poor."
And they'll usually give an estimate of the remaining life left.
If your estimated roof life comes back in the 5-to-7-year range, then it probably makes sense to replace it.
This tends to be the range at which buyers will start factoring in the cost for a new roof into their offer.
Anything greater than that and you should be good, but you'll want to confirm with your agent.
And if your property is a complete fixer, then it's definitely not worth it (unless you're updating everything).
Many sellers opt to not make any updates and go the as-is route when preparing a home to sell because they think that the buyer will do them.
And some do.
But a lot of them don't because they don't have the money to do so.
Do you want to know why replacing certain things before selling can pay off?
Because the majority of buyers are paying ~20% at most out of their pocket for that upgrade.
They're financing the rest.
The lower upfront costs allow them to pay you more money if the upgrade is something they want.
So when you know what you should replace before listing your home on the market, you can drastically improve your chances of putting more money in your pocket.
4. Enhance your lighting
Bad lighting is something that can immediately turn a buyer away.
Even just one dark room can have a negative impact.
A quick fix for this is to check your light bulbs to make sure they are giving off the light that they should.
Go room by room and check each one.
If they aren't as bright as they should be, take them out and have them replaced.
And you might want to consider upgrading.
LED bulbs are the best light bulbs for selling a house.
These are the most energy-efficient bulbs, and they add an extra incentive to potential buyers. You can find some good deals in bulk on Amazon.
The next thing you want to check is your light fixtures (interior and exterior).
There are a handful of things that can really enhance your visual appeal at a low cost, and light fixtures are one of them.
An outdated light fixture can give the impression that other things in your home might be outdated and need to be fixed.
The best light fixtures to sell a house depend on the condition of your home.
If your home is in "average" to "good" condition, then upgrading to modern fixtures will have a positive impact on your home's perceived value.
The key is to keep it simple.
Remember, you want to appeal to as many potential buyers as possible. This means staying neutral and not going with something out of the ordinary.
Something like this could work well for many homes: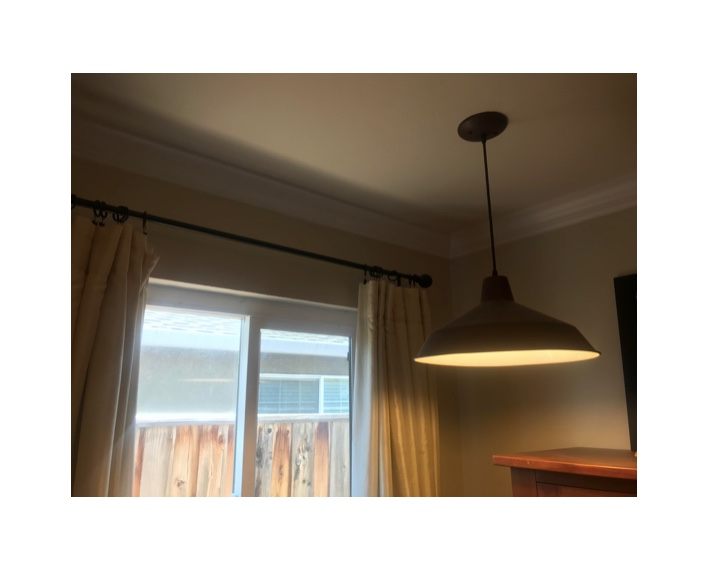 You might also want to consider upgrading to recessed lighting.
Recessed lights are a selling feature and the best interior lighting for selling a home.
They'll almost always pay off.
Depending on your location and who you hire to do the work, the average cost can range somewhere between $200 and $350 per light (materials and labor).
If you go this route when preparing your home for sale, keep it to a minimum.
I would stick to the main areas of your home only (kitchen, living room, master bed).
5. Paint with neutral colors
Should you include painting on your checklist when getting ready?
The answer is almost always, yes.
If your home isn't a fixer-upper and hasn't been recently painted, then it's probably a good bet.
And probably only the inside.
But what you probably really want to know is if you only need to touch up paint or paint the entire interior, or maybe only certain rooms.
When's the last time the interior of your home was painted?
10-15+ years?
Then I would suggest walking through every room and seeing how much touch-up paint you might need.
Numerous places in every room?
Consider painting the entire interior.
Not that many places in need of a touch-up?
Then you're probably okay with just a thorough touch-up job.
But your best bet is to get your real estate agent's opinion.
What about the colors?
Colors are important.
Do not go with anything crazy.
Staying neutral is key.
These are some of the best paint colors for selling a house.
Swiss Coffee
Frost
Wise Owl
San Francisco Fog
You can find these at Kelly-Moore.
Painting the exterior is usually recommended if your paint job is extremely old or if your exterior color is something that isn't common.
If not, you're probably okay keeping your exterior paint as it is.
First impressions are everything, and painting a house when preparing to sell will almost always make a great impression.
6. Boost your curb appeal
Speaking of first impressions.
Boosting your curb appeal before selling can make an even greater impression.
It's the first thing a buyer will see when they pull up to your home.
Remember when I said a buyer's emotion will influence their decision?
Well, this is where it all starts.
When a buyer gets out of their car, they're going to have an immediate positive or negative reaction.
If done right, enhancing your curb appeal will immediately give off a positive vibe.
But this doesn't mean you need to spend thousands of dollars.
When it comes to landscaping, think colors.
Having multiple colors is important and will help make your curb appeal pop.
Here's how you can improve the curb appeal when selling a house:
Plant colorful plants and flowers
Apply mulch
Spray paint your grass
When it comes to planting plants and flowers, you don't need to go extravagant.
Keep this simple.
Going with a combination of something like annuals, ground-covered plants, and flower bulbs can work wonders.
Sought-after for their low maintenance, drought-tolerant plants can also be a great investment.
For the average home, you can spend several hundred dollars at Home Depot or any other home improvement retailer and get everything you need.
Applying mulch can cover up the "wasted" areas with an updated look.
There are different types of mulch, but two of the more common ones you'll see are shredded hardwood (tanbark) and wood chips.
Can you really spray paint your grass?
Yep.
Spray painting sod is one of the best tips for getting a house ready to sell.
Check this out…
One of our partner agents helped their clients do this to their back lawn.
This is what it looked like without the spray paint: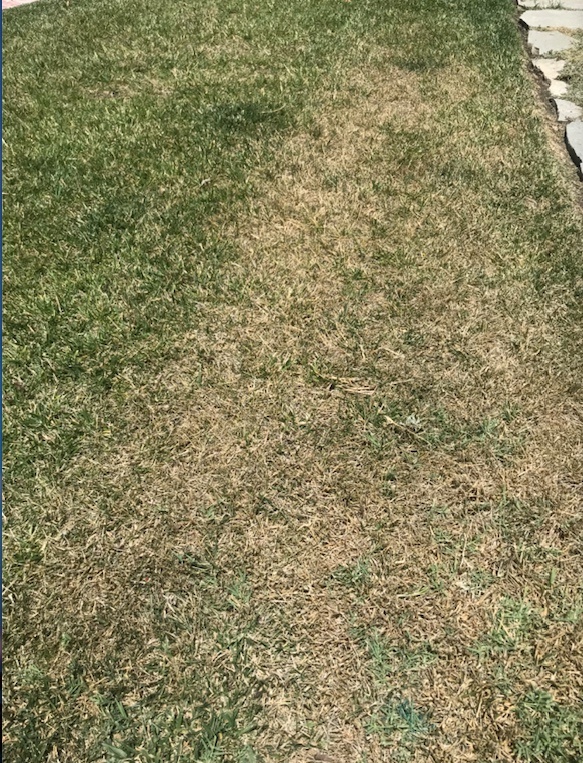 And here it is 20 minutes later: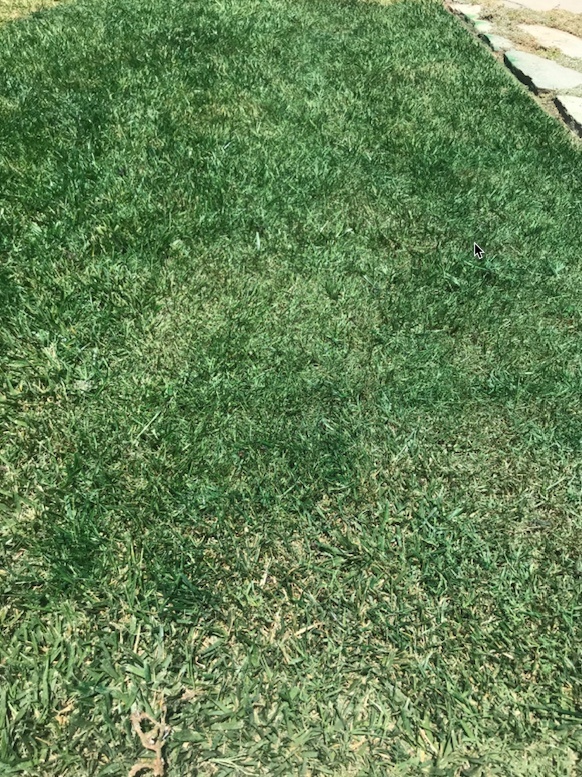 You can apply these same landscaping upgrades to your backyard, but your front yard will have a bigger impact.
Here are a few other cost-effective ways to enhance your curb appeal when preparing to sell.
Power wash
Paint trim
Manicure/edge your lawn
Clean your gutters
Check/upgrade your lighting
Want to know how you can really improve your curb appeal?
Paint your front door.
The best color to paint your front door will depend on the color of your exterior.
A light-colored front door goes well with a dark exterior, whereas a dark-colored front door goes well with a lighter exterior.
Again, make sure you don't go crazy.
Stay conservative and stick with colors that will appeal to a wider audience.
So, how important is curb appeal when getting a house ready to sell?
Very.
Why?
Because when you know how to improve your curb appeal, you make a great first impression.
And when you make a great first impression, you make buyers want to find out more.
7. Deep Clean
Incorporating a deep clean into your checklist when getting your house ready to sell should be mandatory.
It's the final touch that can give your house sparkle and should be done right before staging.
Potential buyers are going to be walking through your home with a fresh set of eyes.
They're going to notice things that you won't.
Just like with everything else we've discussed, when you're getting your house ready, the goal is to do things that will eliminate any doubt from prospective buyers' minds.
And a house that has been deep cleaned can do that.
If you have the time and want to put in the work, you can do this yourself.
But hiring a professional cleaner can save you time and stress, and it can improve your chances of not missing anything.
Here's a checklist of things that should be cleaned when you get your house ready:
Living room/Family room

Clean floors
Wipe down baseboards

Hallways

Clean floors
Wipe down baseboards

Kitchen

Wipe down countertops
Wash/mop floors
Wipe down cabinets and drawers
Thoroughly clean fridge (wipe down shelving, etc.)
Clean microwave
Clean oven

Bathrooms

Wash/mop floors
Wipe down countertops
Clean mirrors
Scrub shower tub and tiles

Bedrooms

Clean floors
Wipe down baseboards

Windows

Clean inside and outside
Wipe down window sills
Remove screens and wash

Garage
Exterior

Remove debris
Power wash
Remove cobwebs, etc. by the front door
Conclusion
Getting your home ready to list can be stressful.
But you can easily have it done in 30 days or less if you're going through the selling process with the right realtor.
And you can put yourself in a better position to make more money.
Stick to these seven steps and get your house ready to sell in less time and with less stress.